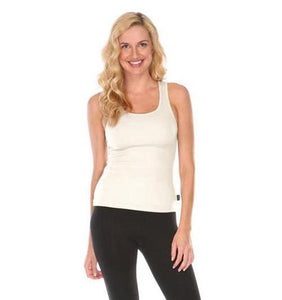 Bra:30 Hipster Womens Tank Top in Eggnog
The Hipster - The Perfect Layering Tank, That Fits Right at Your Hips. This Hip Hugging (Hipster) Style is Great For Every Day Wear. This is the Bra: 30 Basic.The Prefect Amount of Support With Gentle Hip Hugging Comfort. This Will be Your Everyday, Everywhere Favorite. The Racer Back Style Works Under all Your Favorite Outfits

Maintains Support Without The Hassle Of Underwire, Straps Or Clasps.

No Uncomfortable Shelf Bra Needed With This Incredibly Powerful Cotton/Spandex Ribbed Fabric.

90% Cotton 10% Spandex

Proudly Made In The USA.
Sick of Uncomfortable, Restricting Bras? Its Bra:30, Time to Take Off Your Day-Bra and Slip into Our Comfortable Supportive "After Bra." Mainstains Support Without the Hassle of Underwire, Straps or Clasps.
Purchase according to your shirt size.
Size Small: 0-4 
Size Medium: 6-8 
Size Large: 10-12