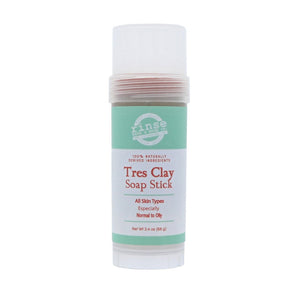 Tres Clay Soap Stick by Rinse
Rinse took one of their favorite body & facial soaps, Tres Clay, and put it in a handy twist-up stick for your convenience. Tres Clay Soap is made with a trifecta of favorite skin-loving clays from around the world! This highly absorbent soap is totally natural, safe to use on the face, and perfect for oily or blemish-prone skin. What's better than having a soap this awesome? Having it in a portable stick that can go wherever you go, of course! Throw it in your gym bag or travel bag so that you can have it handy any time you need to shower! An added benefit is that the plastic container helps to protect the soap, allowing it to last even longer!
In this unique soap, French Green, Moroccan Red & Kaolin clays work together with Cedarwood Essential Oil to gently cleanse and purify the skin.

So what exactly are these amazing clays? 
French Green Clay

 

- This mineral-rich clay is naturally occurring in, you guessed it, France! It is composed of iron oxides, kelp seaweed, and other plant matter which gives it a green color. It  is known for its exceptional absorption qualities which makes it perfect for anyone dealing with oily skin!
Moroccan Red Clay

 

- This mineral rich clay is found in, yep you guessed it again, Morocco! It is also super absorbent, purifying, and works as an excellent facial cleanser! This clay has been used on the hair and skin for centuries. Many people love this clay for its ability to help revive skin by improving elasticity and texture, and its ability to help unify complexion.
Kaolin Clay

 

- This clay is primarily made of a mineral called kaolinite. It is a gentle cleanser, detoxifier, and exfoliant. The best part is that it does not dry out the skin as it cleans and detoxifies!
Contains: Saponified Shea Butter, Cocoa Butter, Olive Oil, Rice Bran Oil, Avocado Oil, High Oleic Sunflower Oil, Coconut Oil, Responsibly Sourced Palm Kernel Oil, Rice Flour, Cedarwood Essential Oil, French Green Clay, Moroccan Red Clay, & Kaolin Clay.
Features:
100% Naturally Derived Ingredients
Gluten Free

Vegan Friendly
Handy Twist-Up Tube
Hand Made in the USA
Net Weight: 2.4 oz