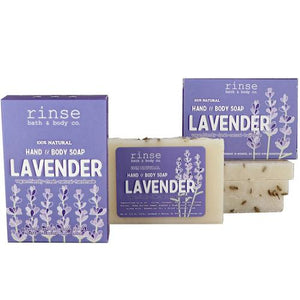 Lavender Mini Bar Soap by Rinse
A classic & a favorite for its relaxing lavender scent and creamy bubbly lather, everyone comes back for more. Made with French Lavender Essential Oil with Lavender Buds sprinkled on top this soap has the appropriate lavender scent (not overpowering.) More of a good thing is not always better.
Contains Saponified Olive Oil, Coconut Oil, Responsibly Sourced Palm Kernel Oil, Cocoa Butter, Shea Butter, Refined Sweet Almond Oil, High Oleic Sunflower Oil, Lavender Buds, & 100% Natural Lavender Essential Oil.
100% naturally derived ingredients, gluten-free, vegan-friendly approx. 2.25 oz
Tip - Cut your soap in half & it will last longer. Don't let your bar sit in a puddle or sit in the constant flow of water.
3.6x2.5x.6 inches
Made in United States of America