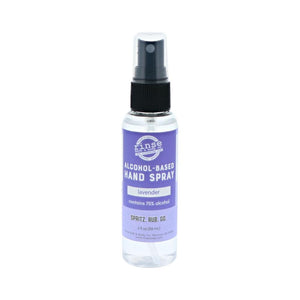 Lavender Alcohol-Based Hand Spray by Rinse
Spritz. Rub. Go!
Rinse's formula is based on the WHO's recommendation for a hand sanitizer with 75% alcohol, hydrogen peroxide, glycerin (a natural humectant to help keep your skin from getting so dried out), and water. While this formula is certified by the WHO as a hand sanitizer, Rinse has not had it re-certified in-house to label it a sanitizer.

Made with a blend of Alcohol (Ethanol) 75%, Hydrogen Peroxide, Glycerol (Glycerin), Aqua (Water), & Lavandula Angustifolia (Lavender) Oil

2 fl oz
Please Note:  Sprayer color may vary.

Made in United States of America